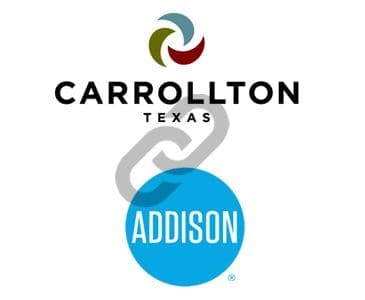 Vector Fleet Management has constructed a landmark inter-local agreement between the towns of Carrollton, Texas and Addison, Texas. The agreement merges resources for the Carrollton fleet of 617 units, which are serviced at two locations and the Addison fleet of 194 units, which is serviced at one location.
This inter-local agreement was made possible after Vector Fleet's securing of an 8 year government fleet maintenance and management contract with the City of Carrollton. Following formal presentations, Vector emerged victorious from a competitive RFP process and was chosen from among four bidders. The inter-local agreement concluded between Vector and the Town of Addison will allow Vector to provide fleet management and maintenance services under the same competitive contract pricing framework offered to Carrollton. As such, Vector has already installed an overall management team to meet the needs of both municipalities and has launched a series of transition meetings with the Carrollton and Addison user groups.
"We're excited to launch our partnership with Addison. The implementation of our industry-leading fleet maintenance and management practices will provide several underlying benefits." says Aubrey Felton, Vice President of Sales and Marketing. "Vector Fleet will assist the municipalities in cutting and controlling their operating and overhead costs and simultaneously improve fleet productivity and availability. We have also created an on-demand procurement system in coordination with our national parts and services suppliers. The result will be consistent availability of the required parts and supplies for both fleets through local supply chains."
Vector Fleet is committed to guaranteeing cost-effective and productive service delivery while continuously improving the quality of work processes and fleet management operations. Fleet operations in the two municipalities will be in full compliance with all applicable personnel, environmental, safety and vehicular laws and regulations.
Vector Fleet is dedicated to ensuring experience and expertise through all cadres of certified personnel. In selecting customer-service oriented employees, Vector Fleet took the clients' existing employees into consideration to preserve continuity and facilitate a smoother transition. Vector Fleet employees are renowned for their commitment to excellence and their desire to constantly ensure an unparalleled partnership experience. Vector Fleet fully invests in the technical training of its employees and rewards them for completing professional development milestones like the Vector Fleet training curriculum. As employees concentrate on their professional growth, we also reward them for providing superior customer service. This allows the Vector team to be focused on the timely and quality delivery of fleet services.
Vector Fleet is pioneering an innovative approach to fleet management in Carrollton and Addison. Vector is ready to put forward revolutionary suggestions to manage the fleets in both municipalities. The alternative solutions to improve efficiency and cut costs include equipment greasing/top off programs, the control and eventually, the elimination of subcontracted fleet repair services. Vector not only reaches, but surpasses its standard of excellence in all areas of fleet management and maintenance.