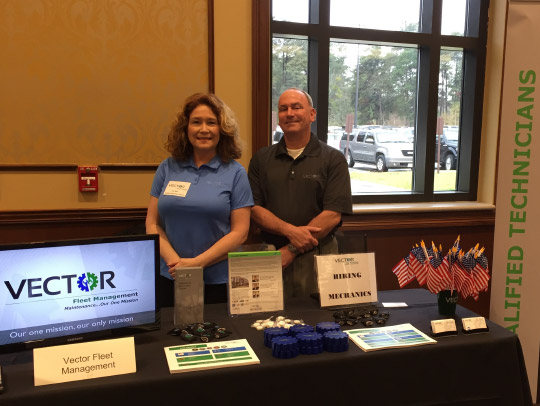 Vector Fleet Management and other employers are teaming up to provide job opportunities for job seekers with military backgrounds at the DAV RecruitMilitary Charlotte Veterans Job Fair.
Vector Fleet Management representatives will be on-site to discuss the opportunities available to job seekers.
The expo will be held on Thursday October 26, 2017, from 11:00 AM to 3:00 PM at Charlotte Motor Speedway, 5555 Concord Parkway South, Charlotte, NC 28027.
To date RecruitMilitary has held 25 events in Charlotte, drawing 8,437 attendees and 862 exhibitors.
Other organizations expected to attend the event include: Farmers Insurance, DAV, MyComputerCareer, New Horizons Computer Learning Center, First Command Financial Planning, National Personal Training Institute, Heavy Equipment College of Georgia, HDR, Inc., CTE/Carolina CAT, DeVry University, BMW of North America, LLC., GardaWorld, ABC Supply, Wells Fargo, North Carolina Dept. of Public Safety, Corning Incorporated, TriNet HR III, Inc., Lockheed Martin Corporation, BlueLine Rental, Enterprise Holdings, Bank of America, Carolina Handling, Waste Connections Inc., TWR International, Spectrum, Mullen Lowe, DH Pace Door Services, Combined Insurance, Arrow Exterminators, Inc, Penske Truck Leasing, Watson Electric, Octapharma Plasma, Inc., Raleigh Police Department, Jones & Frank, MassMutual Carolinas, The Home Depot, Ohio Christian University, Auto-Owners Insurance Company, Piedmont Airlines, Inc., HMSHost, Vidant Health, Novant Health, Charlotte Fire Department , Performance Fire Protection, Class C Solutions Group, Elite Comfort Solutions LLC, Synchrony Financial, New South Construction Supply, LLC, Altec Industries
The event is sponsored by
About RecruitMilitary:
RecruitMilitary (http://recruitmilitary.com/) is the nation's leading veteran hiring company, offering a diverse array of branding, employment, and retention services to help employers connect with America's best talent—its veterans. The company hosts the nation's largest single-source veteran database, publishes one of the largest veteran hiring magazines, and produces hundreds of regional job fairs to connect private and public sector employers with veterans. As a veteran-owned company, RecruitMilitary offers its services free of charge to veterans and their spouses to support them during their job search.
About DAV
DAV was founded by World War I veterans in Cincinnati in 1920 and chartered by the United States Congress in 1932. The organization empowers veterans to lead high-quality lives with respect and dignity. It is dedicated to a single purpose: fulfilling our promises to the men and women who served. DAV does this by ensuring that veterans and their families can access the full range of benefits available to them; fighting for the interests of America's injured heroes on Capitol Hill; and educating the public about the great sacrifices and needs of veterans transitioning back to civilian life. DAV (http://www.dav.org/) is a non-profit organization with 1.2 million members.