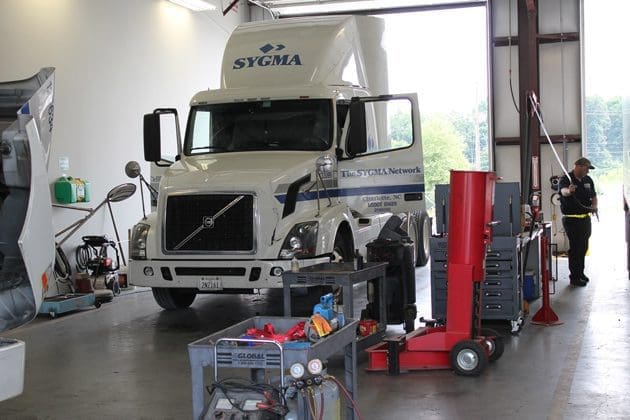 Keeping vehicles on the road, equipment operating, and fleet availability at a high level makes preventive fleet maintenance vital. Overlooking the importance of maintaining your fleet can cause your vehicles and equipment to break down and experience problems at the worst possible times.
Small issues can turn into larger issues which end up costing more to repair, increasing the overall cost of maintaining the unit. On the other hand, opting for a quality preventive maintenance program will prevent breakdowns and reduce long-term repair costs. Your vehicles should be on the road as often as possible and your equipment should be available for daily operation, so you don't lose money due to downtime. It's easy to see that preventive maintenance is an investment worth making.
Preventive Fleet Maintenance Steps
This following outlines the steps our technicians take in performing preventive maintenance. As you read, keep in mind that this is a general overview and that different types of vehicles often require different steps.
Fleet maintenance can include checking the starting and charging systems , tire wear and pressure, brake and air systems, vehicle lights and inspection of the vehicle to detect any problems that might be present.
Ensuring fluids are at the proper level and changing the oil and filters are additional maintenance items that are included in preventative fleet maintenance. Vector Fleet Management's goal is to ensure that all vehicles and equipment are in the best possible condition, and we work hard to reach that objective.
Fleet Maintenance Intervals and Scheduling
Getting vehicles and equipment on a scheduled preventive maintenance routine is critical. The amount of stress put on a fleet along with the manufacturers recommended routine maintenance both play a role in the intervals in which vehicle maintenance is performed. While the preventative maintenance is being performed, small issues can be caught before they have enough time to progress and get much worse. A quality preventive maintenance program insures your equipment is operating without failure between the routine intervals.

Preventive Maintenance Cost Monitoring
Vector Fleet Management utilizes its' Fleet Management Information System to track preventative maintenance, technician productivity and year-to-date costs to calculate the cost of your preventive maintenance as well as predict the future cost of service. As the vehicles in a fleet begin aging, the data we track can provide our customers vital cost analysis information. This will aid in determining whether it's more economical to continue with ongoing repairs or opting to purchase a replacement vehicle.
The following are a few additional features of our FMIS system:
Shop Floor Mechanic Workstations
Shop Maintenance Planner
Live dashboard reporting of Key Performance Indicators
Detailed Unit Masters
Department level Fleet Cost Centers
Customized Preventive Maintenance Inspections PMI Intervals and Notification settings
Parts Management with Integrated Warranty Tracking
By tracking and monitoring the cost of your preventive maintenance plan, we can let you know when it's time for a vehicle replacement. Taking steps to protect your fleet is much easier than addressing issues when they catch you off guard. If you would like to set up a preventive maintenance plan for your fleet, reach out to Vector Fleet Management.
Learn about more features of our Fleet Maintenance Tracking system.
Keeping vehicles on the road and saving money are the primary benefits enjoyed when Vector Fleet Management is in charge of the preventive maintenance for your fleet. Keeping your vehicles in top shape will minimize downtime and keep your business on schedule.