Fleet Maintenance and Changing Technology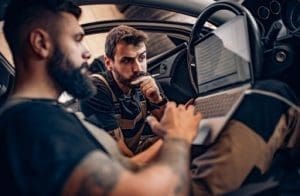 Mechanics or Technicians.
Which do you employ in your fleet maintenance garage?
Technicians are more analytical and applies practical application. Mechanics, that is what we all employ, correct. Implying the physical act of mechanically altering or repairing machinery, in our case vehicles and equipment. Today, the physical act of fleet maintenance is still a craft and skill we all need.
Ask yourself or your fleet manager these 3 questions:
Today, how much of your fleet requires a Fleet Maintenance Technician?
Does your fleet require updated and consistent training so your fleet maintenance staff can maintain and repair your fleet?
Deeper yet, what is your plan for educating your fleet maintenance staff to "keep up" with ever changing fleet technology?
A recent National Fleet Manager survey points us to these answers:
Over half of the private, commercial and government fleets require fleet maintenance Technicians training on the latest vehicle computer and diagnostic technology.
Fleet Managers indicated that over half their fleet needs to be outsourced for electronic and diagnostic repairs.
Continuing education has less than 15% of fleets in the US that have a training and education plan for their fleet maintenance staff. Most fleets do not have a plan or leave continuing education up to each individual.
In recent posts, we have talked about the growing concern among fleet managers and the amount of outsourcing increases each year. Let us do some quick math, Ever Growing Vehicle Technology divided by No Real Educational Change in Your Fleet Maintenance Staff. As an industry, fleet maintenance and management has people leaving the field due to "technology passing them by", or worse yet, not entering the field of vehicle repair. Seems the ever-changing fleet technology, and not being able to keep up with the changes, has a negative downstream effect. Again, ask yourself or your fleet manager, what are their plans for maintaining the skill level of your fleet maintenance staff?
At Vector Fleet Management, we understand fleets. We understand that most companies cannot invest the resources needed to maintain private, commercial and government fleets today. At Vector Fleet Management, fleet maintenance education is paramount to the services we deliver to our clients. Vector Technology Institute is just one way we train, grow and educate our Fleet Maintenance Technicians and Parts Employees. On-site ASE Master Technician training as well as hands-on OEM training are other ways a Vector Technician is one of the best in the nation. Please call us today and let's talk about your fleet and the growing technology gap we can fill for you!