The best method to accurately forecast your company's fleet maintenance budget, is to evaluate all service providers and vendors. Consider all the internal resources required and seek to maximize the value of every dollar spent.
Some firms need to consider if a dedicated third party solution is beneficial, if transactional providers are not equipped or staffed to handle all the fleet's needs. Before engaging a fleet maintenance provider make sure they can meet all your company fleet's needs.
A critical element of these evaluations is to consider key attributes which deliver fleet maintenance service excellence.
COMPARE PRODUCTIVITY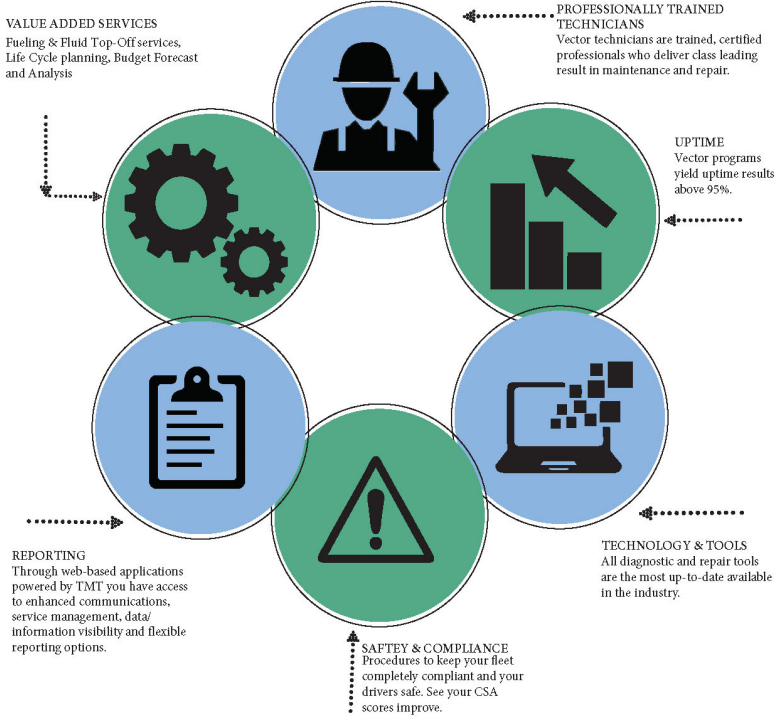 Comparing fleet maintenance providers productivity is to evaluate the time a vendor is charging for a task versus the industry standard. By referencing the vehicle's VIN number, the standard repair times (SRT) can be determined, allowing a comparison between the actual time charged versus the SRT. If it took very little time versus the SRT and the vehicle is requiring rework, then there is a quality issue due the technicians working too fast. If the service takes too long per the SRT, then there may be an
experience issue with the third-party maintenance provider. Productivity is an essential metric to ensure a fleet's third-party maintenance provider is providing effective services.
As the Fleet stakeholder, one should ask how the maintenance provider will ensure the technicians are productive and what information can be provided to measure this.
Productivity is a major ingredient for the operations of a company's fleet to be successful. However, if a third party maintenance provider has provided satisfactory productivity metrics, but the fleet's downtime is out of control, then the shortfall in unit availability will create larger operational problems.
QUALITY FLEET SERVICE
All fleet stakeholders search for quality service. So it's very important to know how third-party maintenance providers evaluate and monitor their service quality.
The most common practice is to measure 'comebacks', also known as re-work. In addition to employing competent technicians, all materials, parts, and workmanship furnished by a provider should meet all OEM standards and specifications. To identify re-work, all units are tracked and identified for multiple repairs to the same component on the same vehicle. Fleet maintenance service providers should determine when the unit is returning and for what reasons other than the initial repair. All re-work should have a corrective action and be investigated by conducting a Root Cause Analysis investigation, when applicable. When instances of re-work are low, service quality improves.
QUALIFIED TECHNICIANS
In order to attract and retain the highest qualified applicant for positions within the company, strong vendors provide a map for success which offers an opportunity for growth, monetary incentives for continuous achievement and has in place the kind of support system that technicians need to be successful. Recruiting from technical schools that have earned a reputation for graduating students equipped with the fundamentals of diagnostics, electronics, and mechanical assembly repairs is one of the options to staff contracts. To recruit the best candidates the fleet operations team should screen and evaluate each candidate, while Human Resource professionals carefully check references and gather additional information during the personal process.
Hiring technicians at the right level is important for job satisfaction and a key to staffing a shop at peak efficiency with the right mix of technicians. Investing in technicians' on-going education helps to ensure that there are opportunities for advancement and will attract top-level candidates. By offering competitive wages and a comprehensive array of benefits will also aid greatly in attracting well-qualified technicians.
EMPLOYEE BENEFITS
Fleet Maintenance service  program should include an employee benefits package that is competitive in local area.
Most Benefits Should Include:
Medical Insurance coverage
Prescription coverage
Dental coverage
Basic and supplemental life insurance
Short-term disability
Long-term disability
401(k) with company match
Sick leave & Holidays
Paid leave for jury duty, bereavement, and military reserve duty (4 weeks active duty)
Unpaid leave – educational, family medical, active military, personal
Tuition assistance
Misc. company-provided benefits such as will preparation, service awards, employee discounts, and referral bonuses
PARTS AND INVENTORY
All parts, tires, and supplies necessary to maintain and repair vehicles and equipment may be sourced from national agreements. Local suppliers should also be considered for their ability to shorten lead times and support the local economy.
VFM views parts and inventory as opportunities to gain full control through our national pricing agreements with numerous OEM, parts and tire suppliers. Free cash flow will improve as embedded providers should own all parts and tire inventories. Control through the elimination of loss due to obsolescence or theft is another key benefit.