5 Steps to Greater Maintenance Efficiency
By – Aubrey Felton – Executive Vice President – Vector Fleet Management
As a fleet shop supervisor or manager, do you find yourself struggling with increasing shop efficiency and by extension shop production? Are your customers frustrated with excessive turn-around times for basic services and repairs? For most, there seems to be no clear quick answer.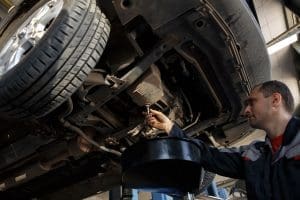 A physical and verbal walk-through could be the starting point. In most under-performing shops there are some key commonalities to be on the lookout for:
A poorly designed intake process
An un-defined repair order distribution process
Lack of "work in process" timeline tracking & client updating of repair status
Standard repair time guidelines in place for technicians
Disorganized parts and supplies procurement
While all of these issues may not exist in your operation, taking time to review the entire service fulfillment process for your clients could expose some of these as real areas of concern. Let's take a look at each of these areas.
Intake Process
The intake process starts long before your client brings their asset to the shop. It usually begins with a PM Service notification from your department. The other possibility is an on-road failure requiring a tow-in. In both scenarios, your client feels inconvenienced. For them, having their vehicles taken away from them and allocating time to the process is as exciting as going to the dentist. An easy measure to institute is an online appointment scheduling program. There are numerous off-the-shelf options for this or your FMIS may already have the capability with a few changes or upgrades. Allowing your clients to control their time reduces the resistance to the service process. For your shop team, it will provide for a more consistent bay allocation.
Once the client is in front of your staff, the next few minutes of conversation will play a critical role in determining the outcome of their experience and of your shops' efficiency in servicing their vehicle. It all starts with open-ended questions; more specific questions about the issues with their vehicle. There are key areas of repair where you should have a pre-defined questionnaire your intake personnel is required to complete. These services typically include brakes, air-conditioning, and drivability (tune-up in the client's mind). It is very frustrating for a technician to be handed a repair order that states "A/C inoperable". Where do they begin to hunt for the problem? They could spend significant time trying to recreate or find the issue(s). Providing the technician with a clear story of the client's concerns will facilitate a more timely and proper repair. As an example, here are some basic A/C questions to start with:
Are there any dash lights on?
Is the problem intermittent?
Has the issue been getting worse over time?
Does the fan work?
Does the air blow cool/warm/hot?
Is there anything else we should know?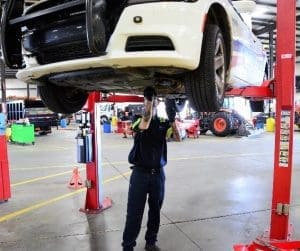 This falls in line with the 3 C'S ever repair order should be documenting (Concern, Cause, & Correction). While Cause and Correction are the technician's responsibility to document, your intake personnel own properly documenting the Concern.
Another common mistake is failing to perform a walk-around of the vehicle with the client. This is a perfect opportunity to engage in conversation, look for signs of damage or abuse, and identify other potential issues the client may not be aware of, like tire wear.
Too often your shop is perceived as a "quick-lube" operation and clients don't understand the depth of the safety inspection you provide, nor the amount of time it will take to service their vehicle or equipment properly. Intake personnel should understand the necessity to "sell time" during the intake process. It starts with explaining the realistic timelines for a PM service/inspection, along with any other areas you may be addressed based on the walk-around or follow-up repairs noted in your FMIS from their last service.
Repair Order Distribution
The commonly quoted statement "the right tool for the job" should be the theme for your workload distribution. Every shop has a widely varying complement of technicians. While it makes sense you would not give a complex electrical draw issue to your newest general service/lube technician, do you apply the same thought process for all services you provide? Just because a technician is MACS certified and can hook manifold gauges up to an air conditioning system, does not mean they are a clear choice to diagnose every A/C issue. Going back to the intake questions and assigning the service to the properly trained technician will not only improve service turn-around time but will significantly decrease the potential for a "rework" situation.
Long gone are the days of technicians pulling their repair orders from the pile in intake. The right technician for the job really will solve numerous efficiency issues before they can start.
Work in Process Tracking & Client Updates
Have you ever had a client call you mid-afternoon checking on the status of the vehicle they dropped off that morning, only to find out the repair order is still sitting on a technician toolbox? This may be the single greatest failure point in a shop operation. You can handle intake flawlessly and assign the repair to the right technician, but not following up/tracking the repair process is a game-stopper. It starts with defining for the technician your expectation of when you want to hear back from them on the "Cause & Correction". In most repair cases, parts will need to be ordered so establishing a "triage" mentality with your technicians will improve service efficiency. They can diagnose or inspect a vehicle, get the information back to the service writer or manager, who can communicate with the client on updates and timelines as well as gets parts ordered, and then the technician can move on to another vehicle. This creates accountability of time commitments with shop staff and a constant flow throughout the shop; ultimately greatly reducing vehicle downtime.
Another process to have in place are "Quarter-Day Briefs". This is the basic blocking and tackling mentality in our business. In an 8 hour shift, there should be a quick 10-minute shop staff huddle every 2 hours to keep everyone on the same page for that day's expectations on equipment being processed through the shop. It does not require every person on your team but should include all shop management, parts department staff, lead technicians, and/or shop foremen. All participants should be prepared to discuss all units actively being serviced and those which are still pending but have definitive promise times to clients.
Standard Repair Times
Our industry has incredible resources to pull from in this area. For the most part, Mitchell, All-Data, or Motors cover the lions-share of the services and repairs we perform in a fleet operation. Where the disconnect tends to show is where a shop operation compensates their technician staff on clock time instead of time & material. Most all technicians who have been doing this for a few years on T & M compensation can quote you the time standards without referencing any materials. This is not to say technicians compensated on clock time don't work as hard, or harder than those on T & M, but inherently when you know a repair should take 1.5 hours to complete and you will be paid those 1.5 hours, even if it only takes you an hour to complete, somehow it never seems to take the full 1.5 hours. Conversely, how many basic PM services spend 2 plus hours in one of your bays when the SRT is 1.3 hours? All shop staff needs to know the expectation for servicing time of any asset in the shop.
You do not have to convert your shop staff to flat-rate to establish the same expectation of time a vehicle or piece of equipment spends in the shop. It starts with communicating the expectation when you distribute the work. Whomever you assign to distribute repair orders should know what the time standards are and be expected to communicate verbally and in writing to the technicians. Another approach is to develop your own Standard Repair Time document for the commonly performed services of your fleet operation. It is always a good idea to involve all shop staff in developing such a document to instill ownership of the process. Below is an example of a fleet specific SRT Program:
Parts Procurement
There may not be a more challenging aspect to your fleet operation than parts and supplies procurement. The industry supply issues aside, this can be very frustrating for your entire staff. It inevitably plays out that a communication breakdown created an incorrect part order. Assumptions are made by parts staff and technicians regarding what the other party knows about the asset or request. Your FMIS should have a complete unit master file detailing all pertinent information such as vehicle identification number, engine size, fluid capacities, tire sizes, after-market equipment list, and pictures (if possible). Even with all this information at our disposal, it does not relieve any shop personnel from identifying clearly what needs to be procured.
Technicians need to be required to detail the specifics required. An easy example would be a technician's request for an alternator. The vehicle identification number alone will not always inform the parts staff what amperage alternator is required. No parts staff should order an alternator without requiring the amperage as well; both parties own the process. Tires are another easy example. A technician requesting a 235/55/20 tire must include brand, model, and performance rating to receive the proper product. We shouldn't have to discuss them as their basic operations, but it is seen day after day in fleet maintenance operations all across the U.S.
There is also the issue of unidentifiable parts. As fleet managers we see this happen with off-road construction equipment, custom-built equipment such as fire apparatus and refuse trucks, and older assets remaining in your fleet. There should be a defined "Sample Part" process in your operation. It is not complicated but does require standardized documentation, receiving, and procurement. You can create a Parts Sample Tag (recommend carbon copy) which technicians can use to zip-tie to part needing replacement. The parts department can receive this part, work with suppliers to identify a replacement, then store it in a designated area until the replacement part arrives. New and old parts can be visually compared and if correct both parts are given back to the technician to complete the process.
Example of Part Sample Tag: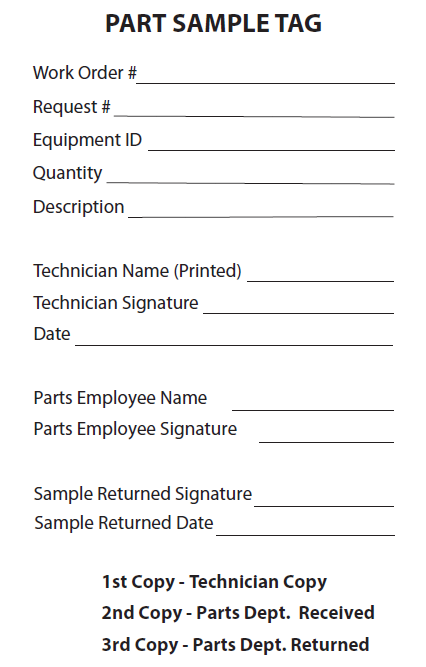 Hopefully, there is an opportunity for your fleet operation to review these areas. We have seen managers take the "Undercover Boss" approach to solve these issues by working in each department of their shop operation. Change is never easy or convenient, but ultimately necessary for all fleet operations to function at a high level of efficiency.
Once new processes and standards are established, remember it is never one and done. Revisiting these areas in your monthly team meetings and requiring all new staff to receive detailed training will ensure a consistent culture of efficiency.
If you are looking to implement changes in your shop and would like assistance and support, contact Vector Fleet Management for a free consultation.
This white paper also appears on the links below: