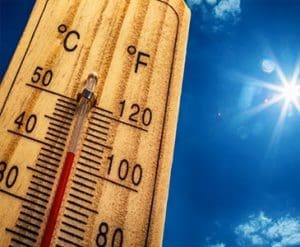 Summer is prime time for fleet maintenance.  People think that winter requires extra care but summer weather has its own unique considerations like intense heat and heavy rain.  Regular fleet maintenance helps ensure your fleet is road-ready during the hot summer months. Here are some useful tips that help enhance comfort even during blistering hot weather.
Check the Air Conditioning
Have a Certified Technician check over the vehicle's heating and cooling system. Sometimes simple adjustments make all the difference in keeping an automotive AC in good running condition. Today, many models feature complex cabin temperature control systems providing multiple coverage zones. A skilled mechanic knows how to keep this equipment functional in every section of the cabin.
Change the Air Filter
Another vital (yet frequently overlooked) maintenance step in some makes and models involves replacing dirty AC air filters from time to time. As air circulates through the cabin, small particles of dust become airborne. The filter helps trap the debris. The owner's manual should furnish detailed information about the vehicle's AC system and whether a particular model requires an AC filter.
Check Coolant and Engine Oil Levels
Regardless of the season, automotive coolants and lubricants offer valuable assistance in maintaining automotive fleets. These fluids help reduce damage from friction. As most engines operate, they generate variable levels of heat. Even traveling a few miles may contribute to an intensely hot automotive engine assembly. Always top off coolants and vital lubricating formulations in vehicles before authorizing extended road trips.
Inspect the Brakes
By obtaining regular brake maintenance for your fleet, your company can enjoy fewer unwelcome surprises. A sudden failure of this important automotive system potentially renders a car or truck unsafe to drive. Avoid expensive towing bills by seeking timely brake inspections at six-month intervals.
Rotate the Tires
It also makes sound economic sense for most fleet owners to seek regular tire tread inspections and tire rotation services. In many cases, rotating the tires helps maintain the anticipated useful lifespan of tires. Sometimes slight alignment issues cause heavier wear on one side of a vehicle than the other.
Check the Battery
Today, some auto batteries function well for periods ranging from five to seven years. Yet obtaining regular battery inspections helps keep this important component in great condition. An inspection and cleaning by an experienced fleet technician ensure corrosion, grime, and grease won't interfere with the smooth operation of the vehicle's battery!
Replace Windshield Wiper Blades Regularly
Have you replaced the windshield wipers recently? Over the course of daily use, wiper blades gradually fray. No one enjoys discovering during a heavy downpour that delayed maintenance has caused windshield wipers to become ineffective. Double-check the condition of the wiper blades whenever the vehicle receives routine maintenance services.
Invest in a Windshield Sunshade
One of the most inexpensive secrets for optimizing cabin comfort during hot weather involves using a front windshield sunshade. Deploy this device to maintain a cooler front dashboard whenever the vehicle remains outdoors on sunny days for extended periods of time. The screen helps prevent sunlight from creating uncomfortably hot-to-the-touch automotive interiors. Long term sun exposure causes some fabric fading. Using a sunshade regularly helps preserve the cabin interior.
Carry Along an Emergency Supply Kit
Finally, consider preparing a collection of useful items to place in the vehicle. These supplies prove valuable should emergencies ever arise during a road trip:
Bottled drinking water;
Non-perishable snacks;
A first-aid kit;
Blankets;
A flashlight;
A tire gauge;
Flares;
Battery jumper cables;
A tire sealant;
A cell phone or an OnStar connection.
Fleet Maintenance: A Wise Idea
A comprehensive fleet maintenance program is a smart investment for most companies. Regular vehicle care reduces the chance of sustaining unexpected mechanical problems. Additionally, it allows fleet owners to maintain vehicle warranties as long as possible.