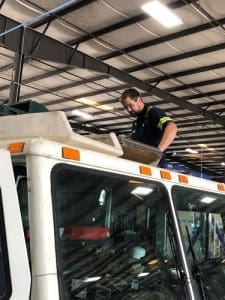 Vector Fleet Management started the fleet maintenance contract with The City of Fayetteville, North Carolina in July of 2019. Historical maintenance records indicated the Solid Waste and Public Services equipment had deferred maintenance. We did not realize the extent of the maintenance issues we would face in the very near future.
During our first 6 months of operation, we began to see the need for a more serious intervention plan. In order to keep enough refuse trucks available for the City of Fayetteville to service all the expected routes each day, Vector Fleet instituted an emergency plan which included stocking an additional $35,000 in refuse parts, adding daily overtime, and working weekend shifts. Our team members took an aggressive approach to turning out the trucks, and the determination paid off.
By the end of January we were receiving emails from the Fleet Liaisons thanking Vector and bragging that the city has never seen this amount of refuse trucks available to them at any time in the past. This team has really pulled together and it is truly a team effort.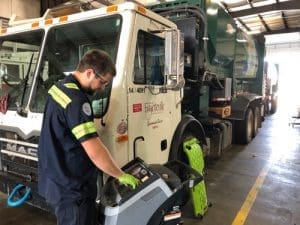 Guys like Taylor Jarrett are the reason we've had so much success in producing such an outstanding operational readiness rate for the City. Taylor is actually a Technician Class A on the Light duty side but saw a need on the Heavy Fleet side of our business. He does have experience on the medium/heavy side and offered his assistance. He has proven invaluable to our team and has since become one of the most versatile and reliable technicians on the heavy side that we have in Fayetteville. His technical abilities and candor make him one of the most sought after technicians in our shop. 
Coupled with efforts like that of Taylor, and the never quit attitude of our team, the City of Fayetteville has been above necessary operational levels since January and will continue to reap these benefits for years to come. Vector Fleet Management has proven The City of Fayetteville made the right decision in seeking this partnership.