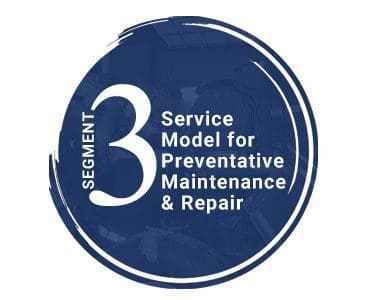 The purpose of Preventive Fleet Maintenance is to maximize a vehicle's availability and longevity. Our preventive maintenance program is designed to achieve a level of performance that will eliminate the requirement for unscheduled preventive maintenance on vehicles. By adhering to schedules and performing an extensive inspection, at every preventative maintenance, unscheduled maintenance would not be necessary during the period between.
The program is reviewed with the Client on an annual basis to ensure that it reflects changes in the fleet and industry wide changes in requirements for service, operating efficiency, and service life, while minimizing unscheduled breakdowns and safety hazards. We perform regularly scheduled maintenance actions in accordance with industry best practices, meet manufacturers' specifications, and guarantee requirements. Our program is designed to ensure that all vehicles are available in a safe, operable condition. Our Preventive Fleet Maintenance program meets or exceeds the vehicle or manufacturer's recommendations on Preventive Maintenance, taking into consideration how the vehicle or equipment is utilized and the area to which the vehicle is assigned.
Preventative Fleet Maintenance and Repair Program
There are four key segments for a successful Preventive Maintenance Program:
Scheduling
Notification and Reporting
Performance
Repairs
Scheduling
Preventative fleet maintenance activities should interfere minimally with the operator's normal required work schedule. Vehicle and equipment preventative maintenance are scheduled at times mutually agreed upon. We have developed and will provide an automated preventative maintenance schedule with sufficient lead-time so that the Client can give ten working day notice to the vehicle user. The preventative maintenance schedule notification, referencing both the department and unit number, will be provided in writing to the designated Department representative VFM is responsible for all contact with departments regarding vehicle preventative maintenance scheduling. The Client, the designated Department representatives, and the vehicle and equipment operators are responsible for keeping scheduled appointments for preventive maintenance.
Notification and Reporting
At this point the next key segment, Notification. We will notify individuals and Department heads of the next months' schedule via a formal letter and, if available, we will email each person/office to remind them of the appointment. Each week we prepare a report for the Client containing a list of "PM No Shows" and any other pertinent information related to preventative maintenance. On a periodic basis, we also provide a report outlining statistical analysis, findings, and recommendations to enhance the overall maintenance of the fleet. We notify the senior management of the applicable using agency whenever a vehicle is not delivered for service after a second notification. It is our policy to note the no shows and should the vehicles develop a problem that results in a repair to correct and the cause can be traced to the missed scheduled service.
Performance
After all the coordination is done and appointments are set, the Performance phase is started. We will use our checklists to perform all necessary inspections and determine if key items are within tolerances or need to be replaced because of age or nearing the end of its useful life. We perform the most appropriate Preventive Maintenance service when vehicles and equipment are in the shop for other reasons. During the Preventive Maintenance service/inspection, any vehicle systems and/or components that do not function as designed, do not meet Original Equipment Manufacturer specifications, or meet state or federal requirements will be identified and repaired as specified by the Department Contract Manager. Additionally, we perform all state and federally mandated safety, emission, recall, or other inspections that are due when the vehicle/equipment is at the repair facility, unless otherwise specified by the Client.
As part of our Preventive fleet maintenance process, we utilize OEM information to review any Technical Service Bulletins which may be applicable to the unit. These services will be taken care of during the PM period or are coordinated directly with OEM dealer for factory-required services.
We make specific repairs to vehicles and equipment that are identified through PM, by users, and by breakdown or malfunctions. Repairs shall be made as required, limiting the nature and extent of repairs to which are consistent with the age, mileage, and cost to repair criteria of good fleet maintenance.