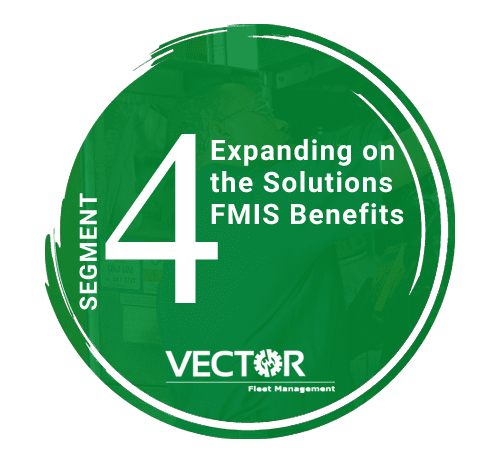 The ability to generate and share reports is key to managing your fleet and measuring the quality, cost and productivity results. VFM utilize a fleet maintenance information system, which enables us to leverage our experience in servicing vehicles, developing optimal preventive maintenance schedules, and managing and distributing large inventories. VFM will own, install, implement and maintain all hardware and software necessary to operate our transferable fleet maintenance management system.
VFM utilizes TMT Fleet Maintenance developed by TMW Systems of Durham, NC. TMT is a sophisticated maintenance management system designed to integrate seamlessly into many accounting systems.
Key Components and Features include:
Shop Floor Mechanic Workstations
Shop Maintenance Planner
Detailed Unit Masters
24/7 On-Line Client Access
Department level Fleet Cost Centers
Customized Preventive Maintenance Inspections PMI Intervals and Notification settings
Real-Time information across all Vector client operations
Parts Management with Integrated Warranty Tracking
Fuel Management and Mileage update imports
Extensive Reporting Functionality
Benefits That Provide Impact Costs and Improve Fleet Availability and Performance:
Achieve consistently high levels of technician productivity (Indirect vs. Direct)
Re-Work or Chronic Repair tracking
Create specific maintenance profiles for PMI's and Condition-Based service
Vector has access to world-class fleet reporting via our Online portal
Preventive Maintenance notifications are sent via e-mails
Paperless Shop Floor with Technician managed Repair Orders and integrated Parts assignment
Accurate and automated mileage updates via fuel report import, ensures PMI currency
Business Intelligence: Vehicle and Equipment Life Cycle Cost and Maintenance Spend analyses
Detailed management of Department Cost Allocations
Accurate Parts inventories and cost savings via Warranty Funds recaptured from claims
Complete Program Accountability through Dashboards and KPI's
VFM maintains both hard copy and electronic records on fleet maintenance and repairs. All electronic data stored in our fleet maintenance management system will be owned by the Client and made available to the Client at any time during the contract. Online read-only access to our fleet maintenance management system will be provided to the Client's Contract Manager and other designated personnel.
At the end of, or termination of the contract, all of the VFM's software and Client data shall be, at the option of the Client, one hundred percent (100%) transferable to the Client for continued use and become the property of the Client. Any one-time transferable costs and any ongoing costs will be the responsibility of the Client.