Vector Fleet Management has employed new, highly productive applications for commercial fleet maintenance and management. Our new mobile apps significantly upgrade our internal reporting system, and have direct advantages for our fuel technicians and fleet inspectors. Some of the more important areas of interest include enhancements for data capture, reporting, operations, efficiency, reliability, speed, ease of use, and overall better functionality. The custom-developed mobile fleet management and inspection systems have positive implications for both the future of the company and employee day to day activities.
Our newly commissioned apps work on the iOS platform. Both fleet inspectors and fuel technicians can use iPhones to access the new systems. They were specifically designed to be user-friendly and graphically appealing. Intuitive screen flows make transitioning to the new apps fast and simple.
The Mobile Fueling System has its greatest impact on our fuel technicians. They can easily record details of fuel transactions, utilizing voice input in the upgraded interface. Another feature that increases the value of our tracking statistics is the dynamic scanning of equipment barcodes. High-resolution photos to document things like unsafe ground conditions and damaged equipment are upgraded as well. Overall, the company's tracking capabilities have been enhanced.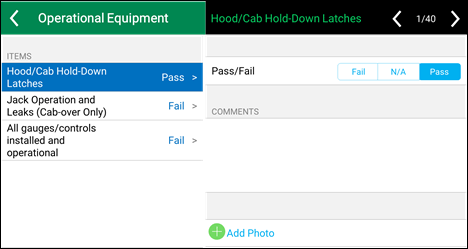 Fleet inspectors are the primary position benefiting from the new Mobile Inspection System. Having the app maximized for speed is crucial. Inspectors will be able to input data faster. Upload and download sync times are significantly improved as well. Realizing that human factors contribute to performance, the company had the user interface custom developed to aid workflow. Users will benefit from the new screen arrangement, which will make locating records and including attachments to inspection documents much less labor intensive. We are seeing highly specific results, including more detailed findings and better photo documentation for each truck.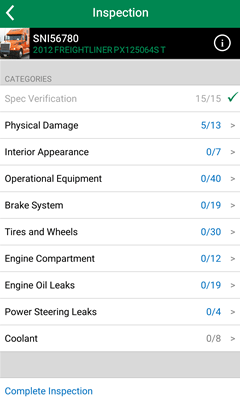 A lot of research and planning went into the design of the new Mobile Inspection System. By custom designing our new platform, we are able to meet the needs of our various departments. In addition to technicians and inspectors, OEM storage lots will be able to transmit over the new system. OEM will employ a variation of the inspection template for the purpose of supporting online sales of trucks. Transmitting comprehensive photo sets that support condition is essential to OEM operations.
Accurate reporting for fleet maintenance is crucial to a smooth operation. There must be little room for error, and minimal disturbances within the chain of operations. Maximizing the time of our technicians is also essential to these ends.
Effective operations also need guidance. This is why broad scope fleet management considerations were integral in the development of the new app. Inspectors and fueling employees have the resources they need to meet and adapt to shifting variables on a daily basis, and improved data will enable managers to better understand and respond to emerging limitations and opportunities. But it is not all about the day to day numbers. We realize the importance of the people behind this company. They are essential to our long-term success. This is why all the upgrades were developed with ease of operation in mind, while simultaneously increasing productivity.