ANALYSIS OF VEHICLE AND EQUIPMENT JOB REQUIREMENTS ALLOWS US TO CREATE A PERFECT MAINTENANCE ROUTINE THAT SCHEDULES TECHNICIANS AND WORK WHEN IT HAS THE LEAST IMPACT ON PRODUCTIVITY.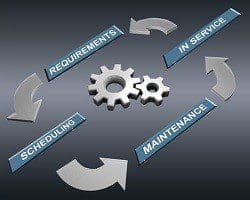 A vital area of the Vector fleet maintenance playbook is how to properly optimize the flow of work scheduled in and out of the shop, in addition to optimizing each technician's work flow on the shop floor.
Our approach sets the right expectation and foundation to succeed in both areas. The process begins at implementation with client meetings to establish maintenance intervals and protocols required to ensure vehicles and equipment are available when required for service. This is facilitated by our flexibility to work extended shifts or on weekends to provide preventive maintenance when your fleet is available.
The process continues with automated tracking of Preventive Maintenance Inspection (PMI) schedules with alerts sent to vehicle users via e-mail. This permits our operations team to 'pre-load' a certain volume of work for the shop and these tasks are entered into our Shop Planner.
From the Shop Planner, our Supervisors assign scheduled maintenance items along with ad hoc repair work for each Technician, before they walk onto the floor.
When a technician arrives for the start of his/her shift, they access their portion of the Shop Planner at their respective Mechanic Workstation.
The key to any work flow optimization plan in fleet maintenance is to execute consistently, day after day, week after week and month after month. Vector has the experience to adjust our playbook for your specific needs and then deliver consistent results over the contract term.
Contact us today for a complimentary Cost Study Analysis and learn more about how Optimizing Work Flow may benefit your company.